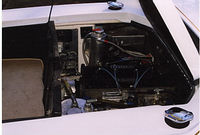 Pictures of Jim Grunewald's Twin Cam Special
1600 cc BDA engine (built by Dave Bean)
45mm webers, dry sump, oil cooler, 177hp @ 7500rpm
Stainless Header from Dave Bean
vented front and solid rear disc brakes (by Banks Service Station)
twin link rear suspension (by Banks Service Station)
Compomotive wheels
Carpet by Automat
Dash by Prestige Autowood
Paint by Kenny Hawkins in Cary, NC


Last changed on 06/27/12. This album contains 8 items.
This album has been viewed 4977 times since 03/06/04.