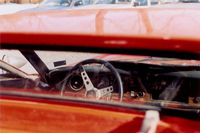 I finally got to update my photo album - shots taken this winter as I rolled the car out to take some measurements.

In progress with: twin link / twin webers / front & rear Wilwoods & disks brakes.
Last changed on 06/27/12. This album contains 5 items.
This album has been viewed 3571 times since 02/28/04.